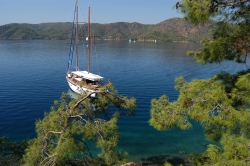 The Aegean and Mediterranean coast of Turkey is acknowledged to be one of the best blue cruising areas in Europe. With abundant sunshine, crystal clear waters, continuous blue skies, good anchorages and friendly people, this coast offers many diversities for gulet charter.
There are many unspoiled areas rich in natural beauty and in coastal settlements and villages it is still possible to observe local people going about their lives in traditional Turkish village fashion. Archaeological ruins and historic sites around in Turkey`s southern coastal regions for gulet charter Turkey with www.admiral-tours.com.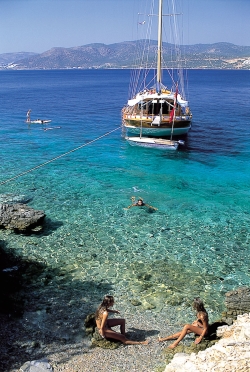 Many ruins and sites such as Cleopatra's lsland, Knidos, Caunos, Patara and Kekova can be seen directly with gulet charter company Admiral Tours. Others such as Ephesus, Dydima, Miletos, Xanthos and Aspendos can easily be reached from anchorage points. Turkey"s and Bodrum's climate also contributes to the cruising excellence of this area with a season that can begin in April and end in October. June, July and August are of course the hottest months for gulet charter in Turkey.

May and September cooler and quieter and April and October still offering 8 to 9 hours of sunshine a day, with the opportunity for walking and exploring as well as cruising. Traditional Turkish yachts are called Gulet and Tirhandils These beautiful motorsailers are handmade from pine and oak and range in size from 14 to 56 meters. There are accommodations for 4 to 32 persons in separate double cabins, some with en suite WC/shower, some with shared facilities. Gulets are especially suited for cruising the Turkish southern Coast, as they have many features designed for this region.
All Turkish Gulets have comfortable saloons, spacious outdoor dining facilities and sheltered aft decks. Their uncluttered decks provide safe, secure areas for walking and plenty of space for relaxing, sunbathing and sleeping under the stars. Beamy hulls and headroom provide lots of space above and below decks making good air circulation and roomy cabin.
Generally, Gulets chartering have Turkish crew of 3 or 4 depending on the size of the yacht. One of these crew member act as a cook preparing meal and helping with the shopping when necessary. Serving and cleaning are also done by the crew.